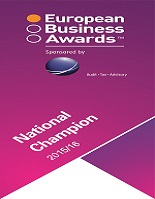 Sysnav has just been named as a National Champion for France in The European Business Awards; a prestigious competition supported by the UK Trade & Investments, but also by businesses leaders, academics, media and political representatives from across Europe.

The European Business Awards now in its 9th year engaged with over 32,000 business from 33 European countries this year and 678 companies from across Europe have been named today as National Champions; going through to the second phase of the competition.

A major new award for Sysnav technology , which calculates a trajectory in 3D, without any external infrastructure. Put simply , the Sysnav Positioning System is a technology for navigation, geopositioning and motion analysis without GPS. It allows to replace it when as soon as it is unavailable or when it fails for some reasons . There are many applications already underway, first in the defense industry, but also now for medical , security and airports . Already awarded by the prestigious Innovation Award of the MIT Technology Review last year, Sysnav SPS technology has this time convinced a European jury to enter the second phase of the global competition .
The European Business Awards juries are composed of experts from different sectors , nationalities and expertise (see the list here) and supported by major personalities such as Christine Lagarde (IMF), Yves Leterme (former Belgian Prime Minister), Jose Aznar (former Prime Minister of Spain), Karel De Gucht (former EU Trade Commissioner), etc.
"It's a real satisfaction for our teams, welcomes David Vissière , founder-CEO of Sysnav . I really dedicates this award to our teams, but also to all our customers who have successfully dared accompany us on the hard path to a breakthrough innovation . This award recognizes the maturity of our technology and our applications in various sectors , and encourages us to take up the challenge at an industrial level . This is a challenge for all of us, a scientific , technical and economic one".
Adrian Tripp, CEO of the European Business Awards said: "Congratulations to Sysnav and all the companies that have been selected to represent their country as National Champions, they play an important part in creating a stronger business community.""