ACCURATE AND RELIABLE GEOLOCATION IS AN ESSENTIAL COMPONENT FOR AUTONOMOUS VEHICLES
INDUSTRY CHALLENGES
Several automotive and tech giants around the world have embarked on the autonomous vehicle challenge. The automobile industry has made rapid progress in autonomous driving, and test vehicles are already on roads across the world, attempting to integrate self-driving cars into our daily lives. However, before autonomous vehicles can be deployed on a large scale, automakers face a wide range of technical and ethical challenges, including reliable and accurate positioning.
OUR SOLUTION
Today's solutions are not only too expensive but also easily disrupted by the large surrounding masses (Bridges, trees, buildings, etc.). Anticipating mass market requirements, automakers are looking for positioning solutions that are more accurate and reliable while remaining cost-effective. SYSNAV is therefore adapting its magneto-inertial technology for high accuracy positioning of autonomous vehicles, delivering GPS-RTK grade accuracy at a mass market price point.
To discover the functionalities of our solutions: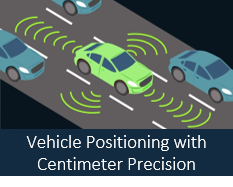 OUR REFERENCES

As part of next generation vehicles and in conjunction with leading car manufacturers, SYSNAV offers a complex combination of sensors: LiDAR, camera, GNSS (eg GPS), odometer, mapping, software algorithms and the heart of magneto-inertial technology. The SYSNAV solution delivers a positioning accuracy of ~ 3 cm in normal times and max. 30cm at full speed (90 km / h) 15 seconds (i.e. 400 m) after the loss of any resetting signal.