INCREASE SAFETY OF WORKERS AND EFFICIENCY OF OPERATIONS ON INDUSTRIAL CAMPUSES
Occupational safety is a key concern in industrial sectors, whether it is oil & gas, chemical, manufacturing or other sectors.
Statistics from the European Agency for Safety and Health at Work (OSHA) show that, in 2019, there were over 3500 deaths from work accidents in the EU.
OSHA recently surveyed the progress of smart digital monitoring systems for occupational safety and health: digital technology contributes to better safety.
Location information has become key for many industries with the widespread use of GPS. However, current positioning tools based on GPS or radio frequency such as RFID often have shortcomings and vulnerabilities:
Lack of signal availability in covered or obstructed areas
System inaccuracy or loss of precision
Interferences
Costly infrastructure required for RF solutions.
OUR SOLUTION FOR INDUSTRIAL WORKER SAFETY

SYSNAV has developed  a personal 3D positioning and location tracking module, SYSNAV PLD, that requires little to no infrastructure to function indoors and outdoors.
This device allows multiple use cases:
Guarantee reliable and compliant travel on an industrial site
Guarantee the localization and safety of lone workers
Guarantee rapid on-site intervention in the event of an incident
Efficiently locate points of interest
Optimizing operational processes
To discover the features of our solution: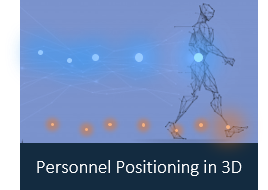 OUR REFERENCES

Protection of personnel in nuclear power plants
SYSNAV provides an accurate real-time positioning solution for the protection of isolated workers during power station operations. The solution contributes to detailed dosimetry mapping with the aim of recording the worker's trajectory to measure radiation exposure and adapt the trajectory to limit this exposure. The solution also makes it possible to speed up topographic measurements for map updates when the nuclear power plant is shut down for maintenance with a strong time constraint.

3D geolocation of operators in factories
SYSNAV's personnel positioning solutions are also used in factories to record and analyse moving habits of operators, and then optimize movements from station to station, in order to streamline workflows and improve operational efficiency.