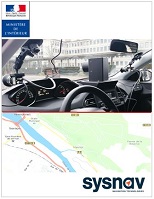 The French Ministry of Interior has taken up a major technological challenge by deciding to automate some of its radar-vehicles dedicated to speed control. SYSNAV is proud to have been chosen to provide the comprehensive intelligent system of this leading-edge solution.
The French Ministry of Interior just launched the experimental phase of radar-véhicles automation , in order to have them driven by an outsourced and private operator under State control. This disruptive technological project mostly relies on a comprehensive intelligent system entrusted to SYSNAV and including :
– very available vehicle positioning – even in GPS-denied environments,
– very precised and garanteed vehicle positioning with GNSS-augmented capabilities,
– automatic visual reconnaissance of various signs in the close environment,
– in-depth data learning,
– secure interaction with a remote data base.
A test of several months has already started, intended to allow the homologation of the new system by September when the final system is expected to be launched nationally.